Is there any way that the growing inequality could cause unrest in America or the rest of the Western world? Initially, the Greek and Spanish riots have grown out of bailouts and other windfalls for the big banks and hedge funds (see this, this and this), and austerity for the working stiff. So in a sense, they are about inequality….
The following video editorial and News reports confirm the inevitable societal collapse that will result from growing economic inequality across the globe.
CNN's Jack Cafferty notes that a number of voices are saying that - if our economy continues to deteriorate (which it very well might) - we are likely headed for violence, and civil unrest is a growing certainty.
Watch the must-see CNN viewer comments on this issue:
It is hard to keep track of all the protests, riots, large-scale mob fights and wars around the world. It is even harder to keep track because
You Tube is complying with thousands of requests from governments to censor and remove videos
that show protests and other examples of citizens simply asserting their rights, while also deleting search terms by government mandate.
Just in the last few weeks, however, there has been riots, protests and mob fights in at least the following cities and countries: Miami (
weekend war zone
), Boston (
more than 1,000 person gang fight
), Charlotte Beach, NY (
over 100 youths fighting
), Vancouver (
10,000+ hockey riot
), Greece (
tens of thousands riot
), Spain (
thousands protest and riot
), Yemen (
tens of thousands protest, many shot
), Syria (
thousands protest, many shot
), China (
thousands riot for 3 days
), Russia (
police crush protests in Moscow and St. Petersburg
) and countless others.
Read Article
Agence France-Press reports today:
The International Monetary Fund stands ready to help riot-torn Egypt rebuild its economy, the IMF chief said Tuesday as he warned governments to tackle unemployment and income inequality or risk war.
Harvard economist Kenneth Rogoff, co-author of a best-selling book on financial crises, "This Time It's Different," told Forbes today in an exclusive interview, that the high unemployment rate and high levels of debt in the U.S. will sooner or later trigger serious "social unrest from the income disparities in the U.S."
The Obama administration has "no clue," he told me what do about this terrible disparity in the economy that is bound to erupt sooner or later, he feels. "I don't understand why people don't wake up to the crisis they are creating," he said to me just minutes after appearing at a Council on Foreign Relations round-table on "Currency Wars."
MALAWI LATEST COUNTRY TO ERUPT IN VIOLENCE
Riots have broken out in several cities in
Malawi
after police and the army tried to disperse protesters demanding the resignation of President Bingu wa Mutharika, whom they accuse of ignoring civil liberties and weakening the economy. In the capital, Lilongwe, witnesses said smoke was billowing into the sky as demonstrators burnt cars, offices and shops belonging to politicians from the ruling Democratic Progressive Party (DPP). Troops were deployed in the normally sleepy commercial capital, Blantyre, and police fired teargas at marchers who had gathered outside the stock exchange.
Read Guardian UK article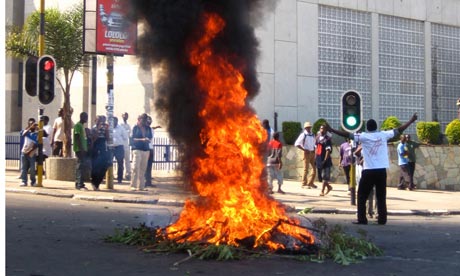 Malawi in flames: Riots broke out in Lilongwe and Blantyre after a court injunction banned protests against the economic crisis. Photograph: Diane Boles/AP
Genesis 6:11

The earth also was corrupt before God,

and the earth was filled with violence

.12 And God looked upon the earth, and, behold, it was corrupt; for all flesh had corrupted his way upon the earth.